I've also been interested in skijoring. Unfortunately, I've never been into cross-country skis nor had a willing partner. However, after doing a little bit of research, I asked myself "Could skijoring be combined with splitboard-mountainieering?" The past few climbs have been hell on my endurance, and I figured if I could get a furry companion to pull me up the mountain, I'd save myself a little bit of effort and introduce a common domestic pet to the glories of a summit quest.
My buddy Rudy and I headed up to Eldora Mountain Resort to take a crack at skijor-mountaineering on a closed-for-season ski area. Truth is, I've never even skiied at Eldora during open season, so navigating the climb was going to be as natural as in the backcountry.
Without any proper skijoring equipment, clipped a caribiner to the right and left belt straps of my backpack, then connected them by a piece of webbing. I created an equalization system similar to a two-bolt rappel anchor. I used a dog leash as opposed to a pull harness, and a 10 foot rope between Rudy and his cargo.
We started the climb from the parking lot, and I was able to glissade across the thin layer of snow with easy as I was pulled toward the mountain.
 
Heading up the mountain
However, once we began to go vertical, I noticed two disctinct problems:
1.) A dog doesn't like to travel in a straight line. He follows his nose, which does not always lead him directly to the top of the mountain. As we head up the mountain, he would sniff out ten feet to the left side, feel the rope tighten, and turn and do the same to the right side…all the way up the mountain.
2.) A two year old Golden Retriever will climb a mountain a hell of a lot faster than a 26 year old man. I probably took one step for every ten of his. Every time he would reach the end of the rope, his momentum was slowed as he had to wait up for me to follow.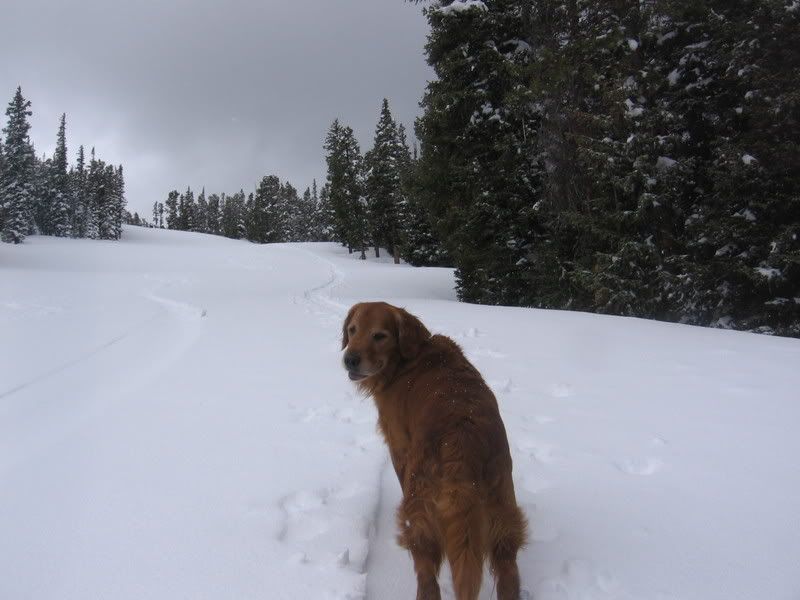 Waiting on the out of shape biped
However, I did notice a helpful pull every time a took a step. The end result was that although it took me about the same amount of time to ascend the mountain as normal, the trip was a lot less exhausting.
What I also discovered, was that Eldora during the offseason is like a dog-park for skiiers. Many times during our ascents, my partner would stop climbing, sit on his ass, and look down the mountain at some fellow skijoring parties as they climbed behind us. I tried to "reverse-skijor" and drag his ass up the mountain, but that was a waste of time. All I could do was sit and wait as the other groups passed us, and then we could continue up the mountain in hot pursuit (as only an un-neutered male dog can).
 
Getting overtaken by the pro team
Eldora is not a very high mountain, and the first 1,000 foot ascent took us a little less than an hour. From the top of the mountain I could look out to the west towards the continental divide and the Indian Peaks WIlderness, home of many backcountry huts that I plan make my home on many weekends to come. The clouds were building all day, and around noon 11:30 AM they started to let down whirling flakes of snow. These flakes were rounded, almost a hail, but the 5″ of fresh snow that had fallen Saturday night was what I was after.
 
Summit
I was a little nervous about taking the dog off the leash for the descent (mostly because this, meissure, is not my dog), but the high danger of getting tangled in rope and snowboarding into a tree outweighed the risk of telling my good friend "Hey dude, I lost your dog out in the mountains".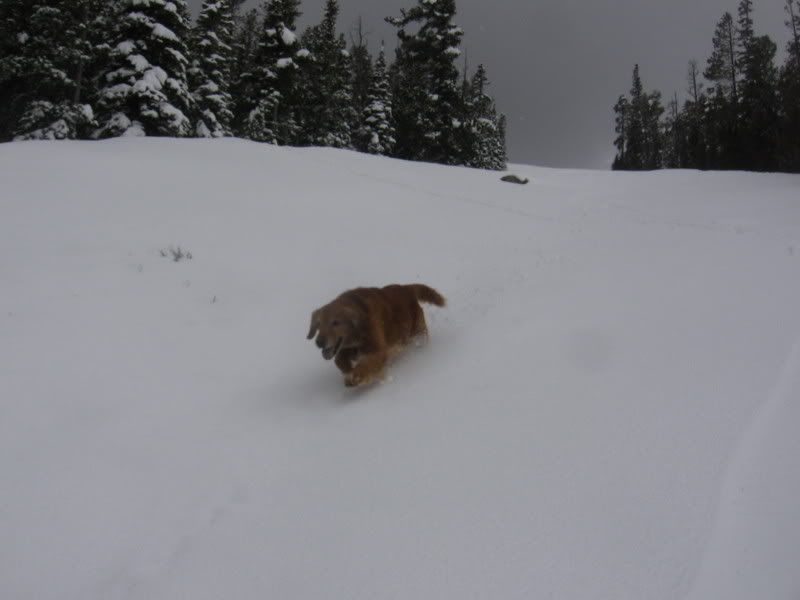 Chasing a snowboarder
The snow was soft but wet. Another benefit of riding a closed ski area is that all the runs are marked. I went straight at the nearest black diamond, a run called "Challenger" and picked a nice surfy line down the mountain. Rudy was off at the gun, and he kept right up with me, running through fluffy soft powder all the way down the mountain.
The ride was so much fun, that we decided to give it one more shot. This time, however, the dog meandered less "side to side" and was much more focused on the ascent to the top. Could it be that Rudy has gotten a taste of "summit fever"? I think so, and he was no less stoked for another rippin' ride down.