On a rare saturday in which I am in Denver and my boy Brian has a day off from the retail gig, we decided to head up to Loveland Ski Area and hike a few big mountain lines with convenient access via chairlift.  After a few warm up runs, we headed north from the top of Lift 9 and switched over to the climbing skins. We soon were stopped by a rope. We could see four patrollers and a sled high up on the ridge, so we sat and had a snack while watching the show.
BOOM!! Blast after blast went off, as patrol cut the slope. There was one small surface slide, but otherwise the snowpack was stable. Finally, the guy on the sled came down to us with a thumbs up sign, and opened up the ropes.
We scrambled to the summit and switched over the gear. There were two other skiers who bootpacked up behind us. The first guy on teles dropped in off the cornice and made a few turns, and it looked like excellent powder. I hiked a bit up the ridge with my board and made a very smooth drop directly down the face, making great turns in the snow before traversing over to the "chutes".
There are about four chutes above Lift 8, and each one has its own difficulty and aethetics. The skiers went down the large middle chute, but Brian dropped in at the end and called me over. It was a narrow, S-curved couloir, and I made about 5 good jump turns before straightening it out and cruising down the apron to the main ski area.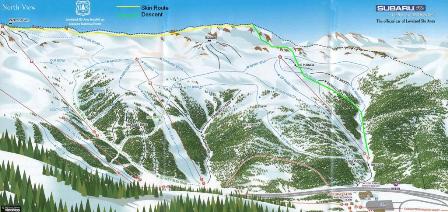 While back on the lift, we discussed what to do next. Because it was a full moon, clear skies, and we had all our backcountry equipment, we thought of hiking out of bounds at the end of the day. After talking to ski patrol, we learned that the best way to leave the area was via a gate at the top of Lift 1.
On the way over to Lift 1, we decided to hit up the terrain park for a run. There was some jib event going on, with tents and music. However, the upper park, containing two "big air" jumps, had only a few people sessioning. We hit both jumps with decent speed, and I felt very confident. When we got to the lift, I turned to my partner and said "lets do it again". We had watched multiple riders brake check before the jump, and land short on the end of the transition. I knew I could gather a lot of speed and air it out.
The second time around, Brian went first and threw a spread eagle. Then it was my turn. I started from much higher than usual, and I straight lined it directly at the feature without making a turn. As soon as I got airborn I completely lost balance. My head and body leaned over to the left, and my board was no longer under me.
"Ahhhhhh!" I screamed as it hit the ground hard. I don't recall blacking out, because I kept screaming "My legs! Help! I broke my legs!" I was sliding out of control towards the second jump, but stopped myself and managed to take my board off.
The next moments were a blur. Brian had climbed back up to my position, and I asked him to go back to the landing and grab my goggles, which had flown off my head upon impact.
I don't know how long it took for ski patrol to show up, but soon I was surrounded by a group of people who were all doing different things and asking me questions.
I knew my name, my partners name, the day of theweek and my location. However, I did not know what month it was, nor did I know what I had just done. However, Ski Patrol took one look at my helmet and said "we're taking you down."
Still in a concussion daze, they strapped me to a sled and took me to HQ. There I started hearing witness accounts of what happened.
"He was going fast, man."
"Forty or fifty feet to the ground!"
Luckily, they managed to pull off two of my jackets without cutting them. When they found the avalanche beacon strapped to my chest, they said "That is strong procedure, man."
I don't know if I agreed to take an ambulance or not, but soon I was strapped to a backboard and loaded up. Right before I left, Brian showed me the accident report he filled out. On it was a picture of a stick man with a cloud saying "I'm going big!" and spiraling out of control.
The 50 mile ambulance ride down the hill was painful. My head was strapped so tight to the board and I was in exteme pain. My legs were strapped down, and all I wanted to do was flex my knees to see how they felt. I had most of my mental state together, and I chatted with the EMT while complaining of the uncomfortable conditions.
The ER at St. Anthony's was the most chaotic scene of all. It must have been a slow week, because all these anxious young interns and nurses were all over me, like a scene out of the TV show "ER". As soon as I got in, one guy says "Sorry, bro, but we're cutting off these clothes." Another one stuck some needles and an IV in my left arm. Soon a woman came and drew blood from my right arm. All throughout the nightmare, I could see people passing my helmet around, and everyone was shocked at the condition and telling me how lucky I was to be alive.
After a trip to the CT scan, and X-rays on my knees, I was left in peace. I listened to the monitor beep, and closed my eyes for a bit.
Soon I heard "Hey buddy," and woke to see Brian standing over me. "You alive?"
"Yeah," I said, but my knees hurt.
The nurse came back in and told me that I didn't have any broken bones, and it was probably a sprained MCL. However, the bloodwork showed that I had a high white-blood cell count.
"Isn't that good?" I asked, thinking back to the elementary school science classes.
"Well, it is a sign of intense trauma, so we are going to flush you with an IV and take blood again. You'll be here for a few hours."
"A few hours?!" I whined.
So for the next two hours I was moved out into the hallway. I patiently watched the IV drip go down slowly, while observing the hospital operations. I was going crazy, texting my girlfriend repeatedly, asking her to come and get me the hell out of there!
Finally I was released at 9 p.m., and I hobbled out to the car with a knee immobilizer on. I have proclaimed my retirement from the terrain park, but I can't wait to heal up the knee and get back into the backcountry for the Spring Season.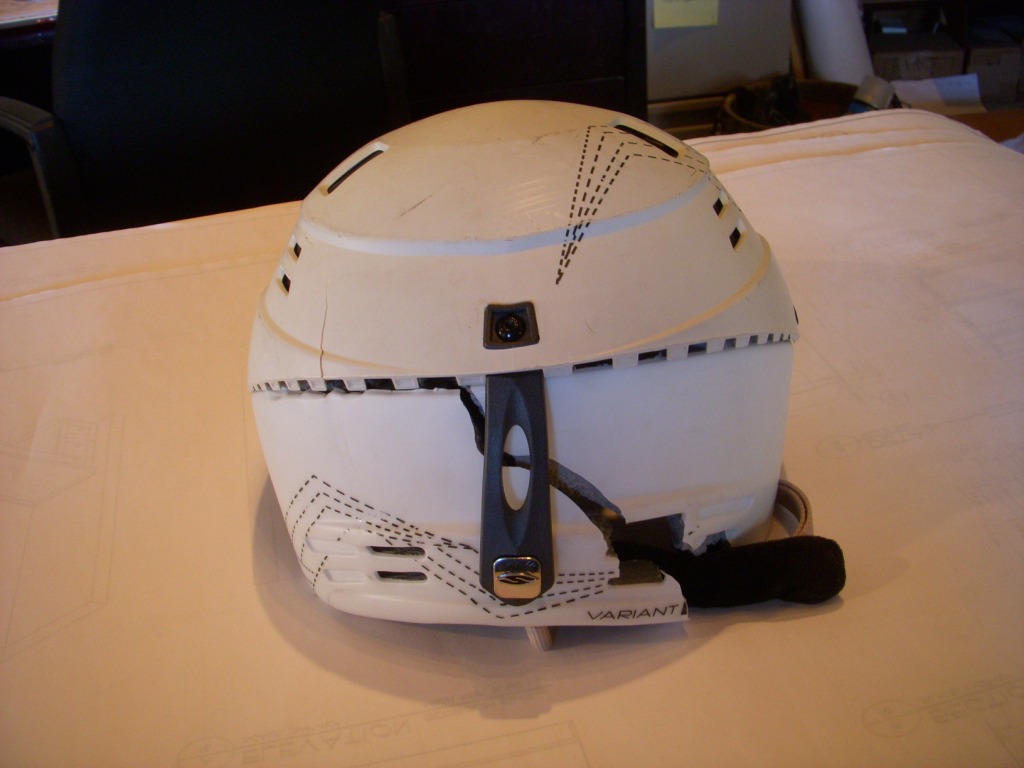 What my skull would have looked like without the helmet.