April 24, 2009
Barrows and I took a trip up to James Peak to attempt Shooting Star last week. We hiked in from St. Mary's glacier and dropped down a pretty nice line into the James Peak Lake area.

Hiking above St. Mary's to James Peak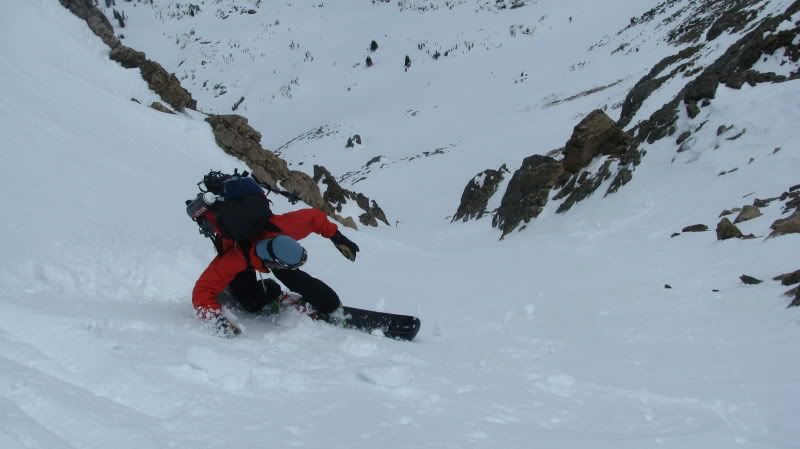 Barrows dropping into this cool chute that we found to descend to the lake.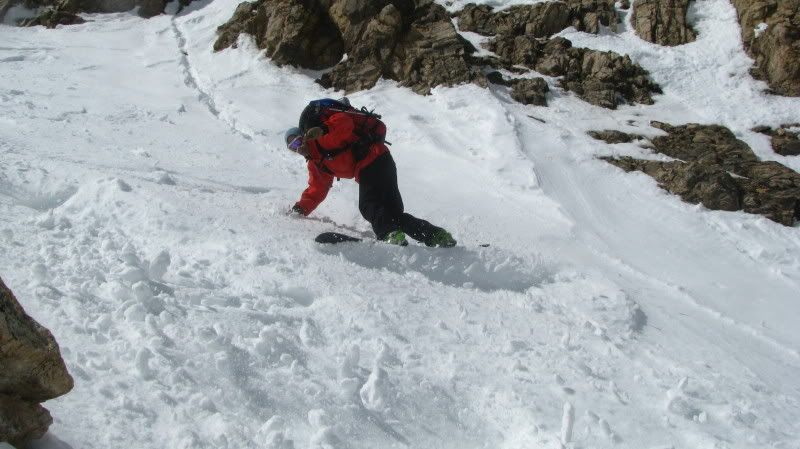 Down on the Mammoth Gulch side, looking back up the way we came.
We set up camp right near the lake and had plenty of time to chill out and relax, and turn in early. Unfortunately, right as we went to sleep, the infamous "Indian Peaks Winds" started to gain strength, and were relentless all night long. I couldn't get more than a few hours of sleep, with the tent shaking uncontrollably all night.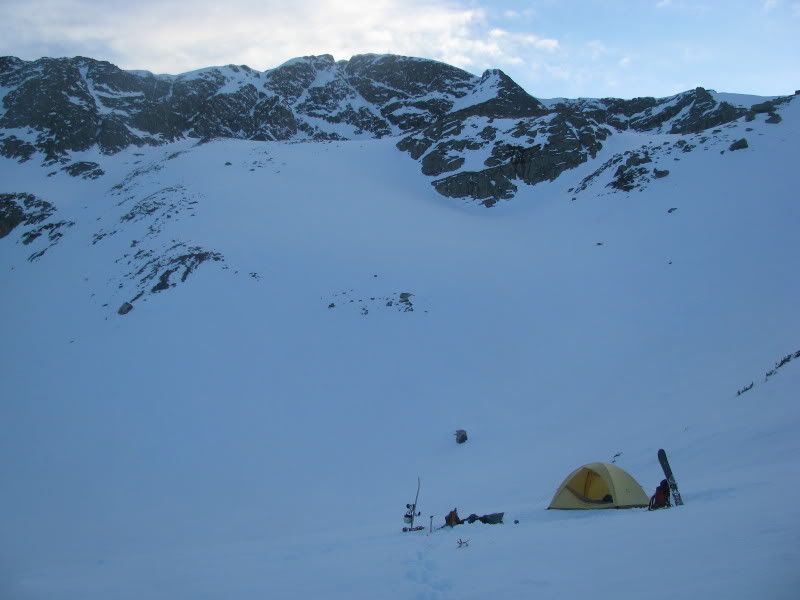 Camping out beneath the peak
Finally, we awoke at 3 AM and started to cook breakfast. The winds were still strong, and when I got up to chase down a bag of coffee filters, my sleeping pad took off like a sail into the pitch darkness! The pad was never seen again

Sun rising up over the Great Plains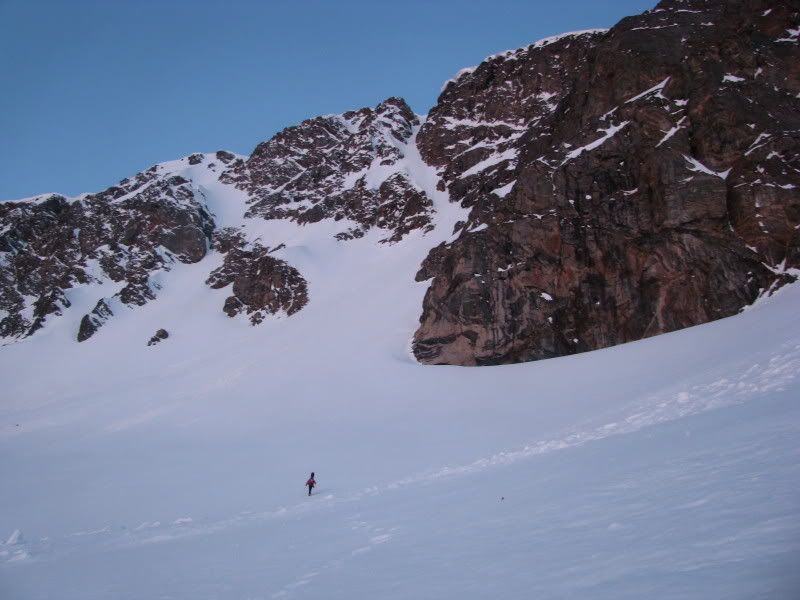 Initial views of the 'Shooting Star'
While hiking up towards 'Shooting Star', we found that there was very little freeze that night, and we were post-holing into about 6 inches of unconsolidated snow. The conditions on the apron where a little firmer, but then midway up in the couloir we decided to call it because conditions were getting worse again.
The couloir was very steep. We measured 42 degrees where we stopped, and it was getting steeper. (Other trip reports say the top section pushes 50 degrees.) Needless to say, I'm a little relieved that we turned around. I was totally exhausted from the lack of sleep the previous night, and we still had a 2000′ climb to get back up to St. Mary's Glacier.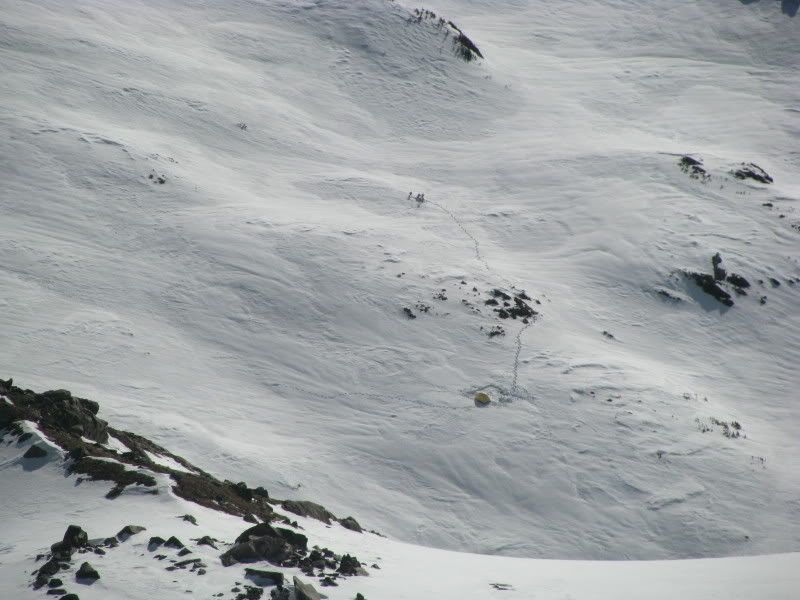 Looking down at our camp from midway up the couloir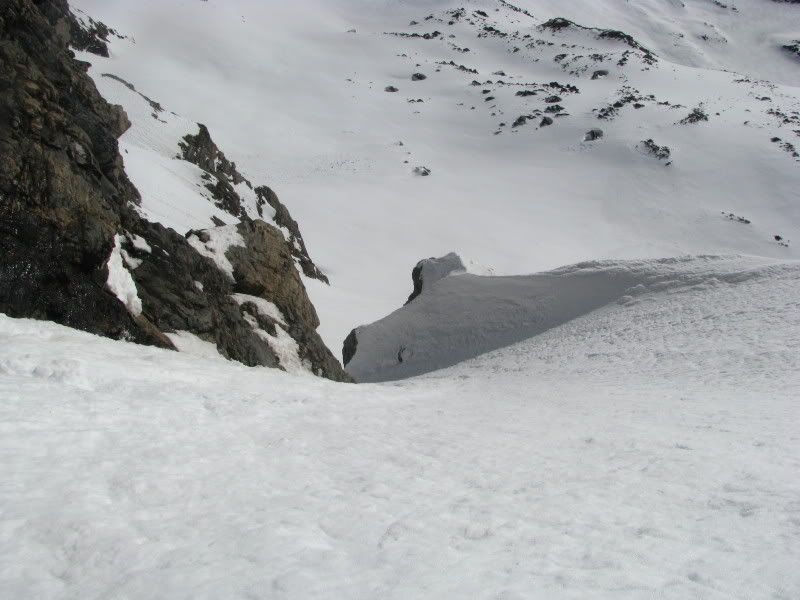 View of the descent of the couloir
I took the couloir descent first, and mostly side-slipped through the narrow section. When I got out to the apron, I loosened up and started making some high speed turns. Apparently I took it a bit too extreme and found myself flipping over backwards and sliding out of control. Thankfully, I was riding with my ice axe and self arrested after sliding about 200′. It was definitely a wake up call!
Once I found a safe spot to chill, I turned the camera on and took a few shots of my partner making the descent. We made it back to camp by 9 AM and packed up for the hike out.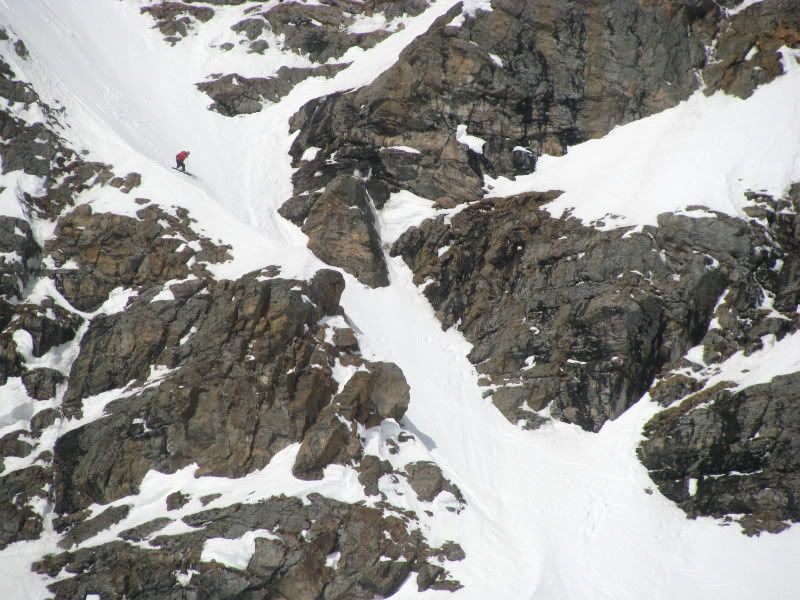 Watching Barrows make his descent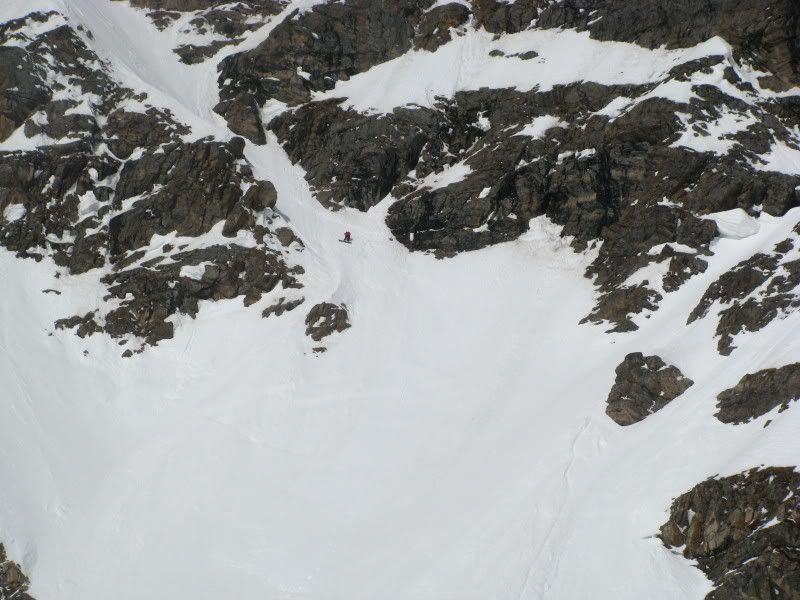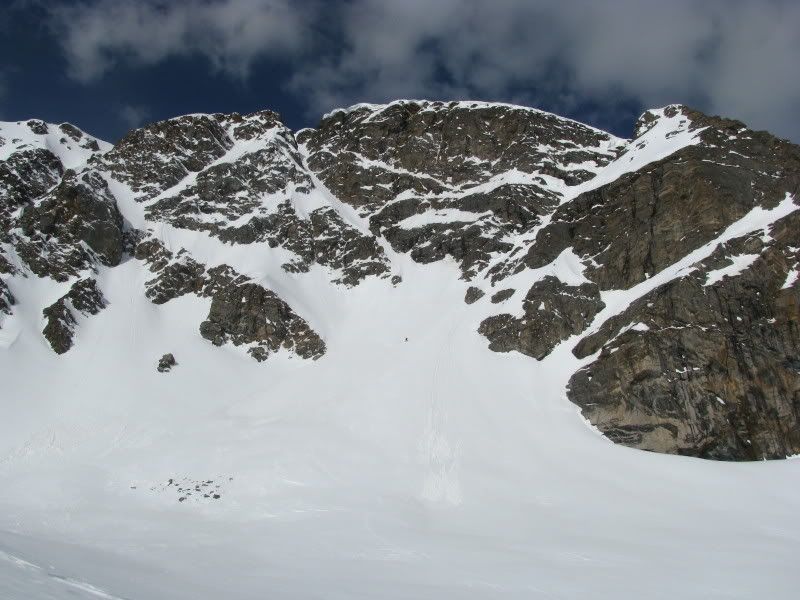 Wide shot. The snowboarder is right up in the middle of the apron

One last look at the whole couloir
I'm glad I got to make an attempt from the east side of James Peak, as opposed to the summit from the south flanks. Next time, though, I think I will wait until the road opens to the lake, and then make a day trip out of it.