This weekend my parents came to visit from Illinois and we decided to stay up in Grand Lake for the Labor Day weekend.  I had only been there one time, over three years ago when 'Briguy' and I tried to drive over Trail Ridge Road in the middle of February.  We were stopped when the yellow pavement lines terminated at ten foot wall of snow at the west entrance to the National Park.  That was the farthest I've ever been on the west side, although I have explored most of the terrain on the east side of the National Park many times since.
To save my Dad a couple of hundred bucks on a rental car, I agreed to hand over the keys to my trusted 1997 Ford F-250 Powerstroke to him for the trip.  That truck and I have been through heaven and hell together four seasons a year, but all I could think about what gaining the freedom to ride my 1989 Kawasaki KLR-650 for 200 miles through the Rocky Mountains! (of course, the fact that I still owe said Dad a few bucks on the generous truck loan, had little to do with the decision.)
I geared up at near 4:20 in the afternoon and made a final pit stop before heading out on my own.  I topped off the KLR with 87 octane and looked around for an air compressor.  I circled the entire parking lot before finding one that said "out of order".  Without a guage, I estimated that I had about 40 psi in the rear tire and 30 in the front.  I figured it a worthy experiment for my first mountain trip. 

84 degrees in Denver with clouds rolling in
I got out of Capitol Hill as usual without a hitch, cruising out at top speed on U.S. Route 6 towards Golden.  I decided to continue on US-6 up into the mountains because it had worked well on my last motorcycle ride and was much more relaxing than Interstate-70 would have been regardless of the situation.  My Clear Creek detour proved once again to be a good decision, and I made my first stop at the infamous "Kermitts", a saloon with a large "Tuaca" sign and a collection of the Harley-Davidson types parked out front.  I've seen this bar with my own eyes over 200 times by my estimates.  I snapped a few photos anyways., but had no need or desire to go inside.  Maybe next time.  Instead I put on the rest of my makeshift 'cold weather gear' I had brought to experiment with on this trip.  I had a light fleece on under my textile motorcycling jacket, which gave me excellent mobility and warmth.  I also put on some 'waterproof' (I use that term sparingly) EMS pants over my poly hiking pants. I kept on the leather 'MLB-branded' batting gloves although I still had some winter touring gloves in the tailbag.  Speaking of tailbag, that is also a makeshift idea using the legendary DaKine Heli-Pro backpack.  The bomber hip belt and cargo straps on the back secured the bag to my stock rear rack of the KLR.  I had found a motorcycling use to add to the multiple uses of my favorite pack throughout the snowboarding, climbing, mountain biking, city-trekking, and hunting seasons.

My KLR parked in front of Kermitt's
When I got going again I was forced to pick up the interstate for a few miles.  Just as I ramped on I was stopped in gridlock Labor Day vacationer traffic not unlike the hellish 'Bormon' through Northwest Indiana on such an important American recreational holiday.  Strangely, I wasn't the least bit annoyed by the traffic while riding the KLR instead of driving a 'cage'.  After about ten minutes it opened up again and I exited onto US-40 to head up Berthoud Pass. 
The temperature started to drop quickly while heading up the pass.  I pulled over and changed into a super-warm pair of Tourmaster gloves I had bought in the bargain bin at Moto-Gear Outlet.  Now my hands were nice and toasty, and I continued up the pass.  I enjoyed making the hairpin turns around each switchback, climbing higher and higher up the pass.  I had read mixed reviews about riding a carburetted motorcycle up to high altitudes, but I didn't notice anything out of the ordinary.  I parked at the top of the pass and took a few photos.  Without snow everywhere, I could see where the dirt road went up to the science station at the top of the mountain.  However, the road had a gate in front of it and a sign that said "No Motor Vehicles".  That was a bummer, for I really wanted to rally up to the top on a short detour of my trip.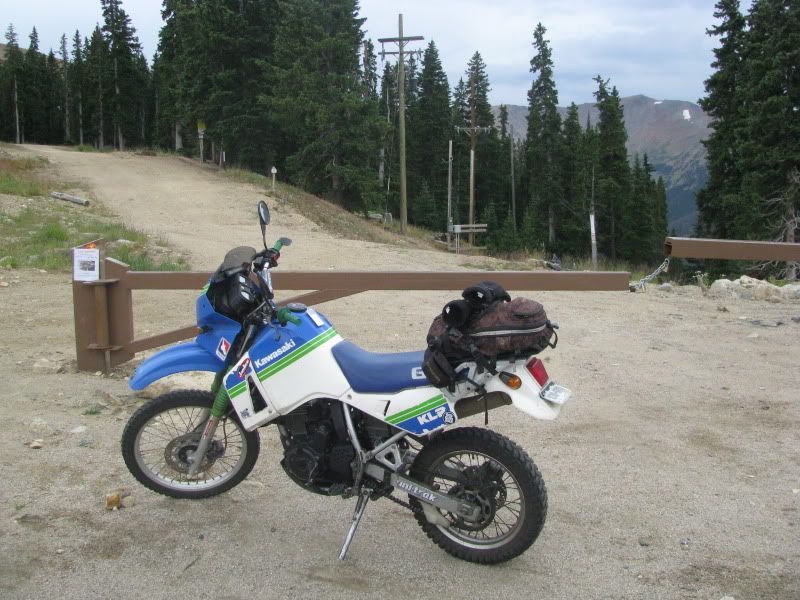 Looks like a perfectly good road to me!

Self photo on Berthoud Pass
I departed down the west side of Berthoud Pass, through Winter Park and Granby.  The air started to warm up again, and with the mountain pass behind me, I settled back and enjoyed the cruise.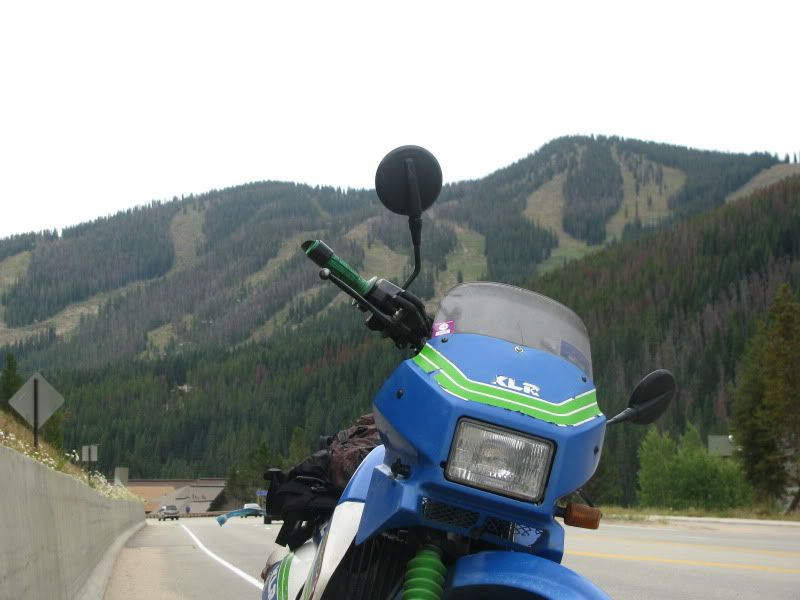 "Sweet Mary Jane!"
I may have gotten a little too comfortable out on that straight stretch of highway, and caught my eyes wandering away from the road and to the beautiful mountain scenery around me.  At one time, I brought my eyes back to the road just in time to see a large white van coming right at me in my lane!  He was apparently making a pass, and at the time I made eye contact with him he was already moving back into the other lane, but it was short enough to scare the crap out of me!  For the rest of the ride I told myself "eyes on the road!"
The views from lake Granby were just amazing.  It was a little over an hour before sunset, and there were dozens of sailboats out on the calm lake.  The sun cast a warm glow over the entire scene.  I just had to pull over and take a few more photos before finally reaching my destination in Grand Lake.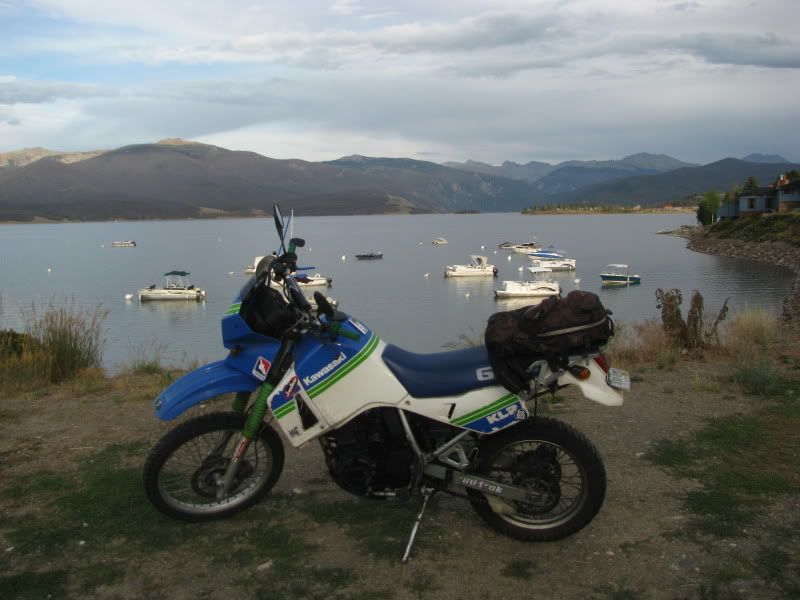 Sunset on Lake Granby
———————————
On day two, we occupied ourselves by riding the mountain bikes and hanging out around town.  When I had a little free time to escape, I took the KLR out on my own to find some highly addictive dirt to play in.  By looking at my map of Rocky Mountain National Park, I identified a forest service road called "Kewanachee Road" that climbed up into the foothills on the southern end of the Never Summer Range.  When I got to the trailhead, it was packed with trailers.  A few guys were loading dirtbikes onto their trailers to ride back home in there cages.  I smiled to myself and was so glad I had a dual-sport motorcycle so I would never have to do that!
After I passed the parking lot, the road got pretty technical.  I was met with a long, steep hill immediately.  As I started up, I saw a train of "family-types" on ATVs coming directly at me!  I realized they had no concept of yielding to uphill traffic, I stopped my ascent halfway up the trail.  As soon as I did I groaned to myself about making such a bad decision.  It was going to be a pain in the ass to get started again.  When the "cotton-and-denim army" finally passed me I was all alone again and hit the gas.  I couldn't handle the angle I was trying to get on, and the rear wheel started spinning wildly.  The next thing I know, I'm perpendicular to the road and going down!  I try to stick my left leg down but it was too steep.  I gave up my effort and the KLR slammed down on the ground.
Breathing heavily, I scrambled to pick it up before more ATV traffic came upon me and suffer any more embarrassment.  Not only is a KLR heavy to pick up on flat ground, the challenge was magnified by me being so far downhill and trying to push the bike up from below.  Grunting, I finally got it up and found that the end of the clutch lever was busted off, and the gear shifter was bent.  "Stupid!" I yelled to myself.  But instead of feeling pity for myself, I decided not to give up on the hill climb.  I got back on the bike and coasted back down to the flat area at the bottom.  This time, I aimed the tire directly up the hill and cranked on the throttle.  ATVers be damned, I wasn't stopping!  Luckily, I made it up without incident and breathed a sigh of relief.
The remainder of the road was a lot of fun.  It wasn't too steep, and offered plenty of winding curves as it climbed up through the desert forest.  It was a perfect evening for a ride, and I had some excellent views back to the east.  About halfway up, I stopped to look at my map and realized it had fallen out of my vest pocket.  Although I thought I could keep going, I figured the smart thing was to turn around and head back to meet up with my family.  Luckily, I found the map down on the trail on my way down.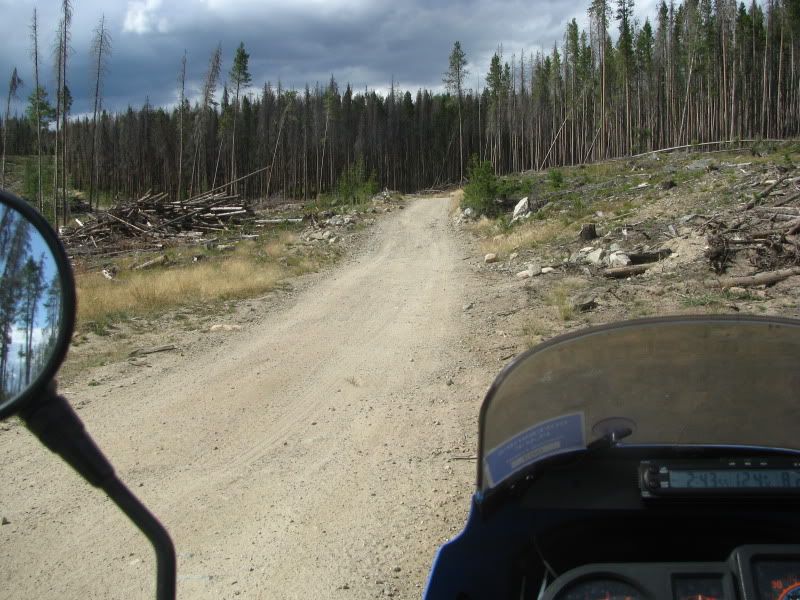 Traveling on Kewanachee Road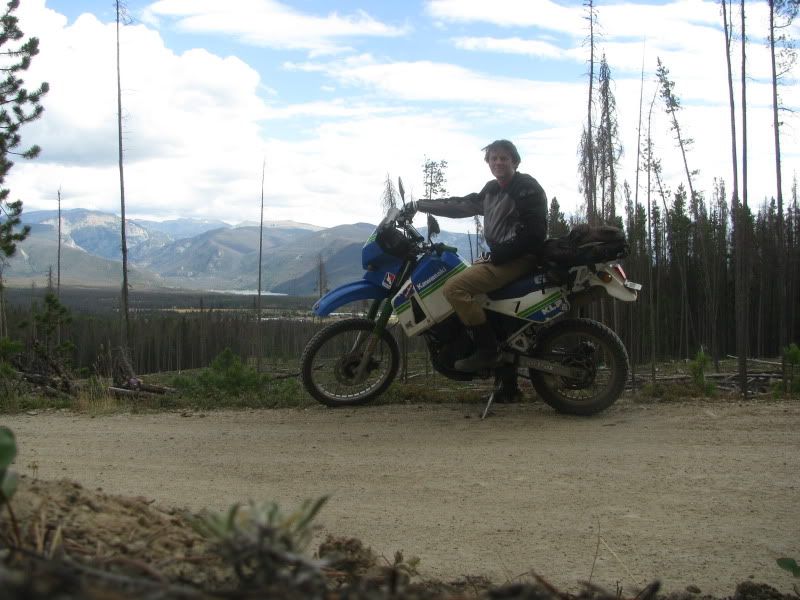 Self photo from high up on the road, looking out towards the east
——————————-
On day three, we loaded up the convoy (one car, one truck, and me on the motorcycle) and headed on our way through Rocky Mountain National Park.  It was a cool morning, and as I rode through the lower valley on the west side of the park, the temperature was dropping.  I changed into the warmer gloves, but as I started climbing up above the valley floor, the temps rose again.  I took in the sweeping views of the Never Summer range while winding up trail ridge road, and we all stopped at the Alpine Visitor Center at the top of the road for a short hike and some photos.

Wapiti….yum yum

Epic mountain views!
Afterwards, I mounted up again and continued over the pass.  The views from the top of Trail Ridge Road were epic!  I could see the distinctive flat-top of Long's Peak to the southeast.  The craggy face of the continental divide dominated the view on my right side.  The upper part of the road was very crowded with tourists pulling over and getting out.  I rode very carefully and finally started to descend to the east side of the Park.  I also passed dozens of motorcyclists.  Most of them were on cruisers.  Not many people waved, but neither did I because I was focused on controlling my descent.  However as I came around a lower curve I saw a dual-sport rider coming up.  He gave me a big "thumbs up" as he passed me!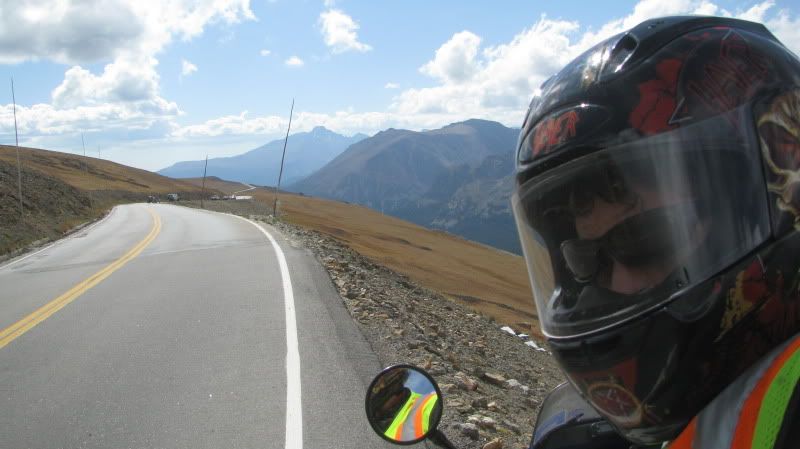 Self photo on top of Trail Ridge Road with Long's Peak in the background
After making it through the Park we did an awesome hike up from the Glacier Gorge trailhead to "The Loch", where I was able to show my dad one of my favorite snowboard descents, Taylor Glacier.  Then we went into Estes Park for dinner and finally got on US-36 and took that all the way back to Denver.
This was the first "long-distance" ride I've done on the KLR.  I learned a few things, but all in all I didn't have any problems and had a lot of fun.  I may be in the market for a more comfortable seat, but other than that, the KLR is a great touring bike!
Tags: berthoud pass, dual sport, estes park, granby, grand lake, klr, motorcycle, Motorcycling, rmnp, rocky mountain national park