Tuesday, January 27th, 2009
PART 3
(CLICK HERE TO JUMP BACK TO PART 2)
With the morning sun moving higher in the sky, we got to work fast.  This project was going to be an all day affair.  First we started to skin the animal, starting around the ankle of the rear quarter.  The layer of skin on the hide was incredibly thick, and slowly the skin peeled off while constantly cutting at the membrane with a knife.  My partner started with the rear quarter and then I moved to the front quarter.  However, I quickly found that my brand new Buck knife was very dull, and I was having a hard time with the skin.  Instead of each working on a quarter, I moved back and helped him by gripping the hide with both hands and pulling, while he kept cutting away with his knife.
After removing the hide, I left my partner to work on the meat.  I only returned to help when he was ready to sever the quarter at the hip bone, in which I got above the animal and held the leg up in the air.  Otherwise, I got to work starting a small fire, cleaning a bit of backstap meat and cooking up a few pieces for our breakfast.  The taste of fresh elk meat, dead for for a few hours, was a feeling experienced by the few.  While ingesting the meat, I felt like I was being sworn into a select society of hunters going back 10,000 years.
By noon, my partner had half the animal quartered, and we rolled it over so he could get at the other half. With so much meat already into game backs, we both agreed that it was too much to pack out in one night.  We would have to leave most of it here and return in a day or two.   I left him to quarter and debone the meat (I wasn't much help anyway).  My job was to find an navigable route down to the foot of this mountain, and then find an appropriate location to store the meat, far away from the carcass that would certainly draw scavengers as soon as we were to leave.
I packed up all of my camp gear, and headed down the mountain, following the fall line but also being sure to have a southeast heading.  According to the map, by traversing east, I would pick up the "High Line Trail", which we could follow south through the swamp and back to the road.  From the road, we could walk or hitch hike a few miles back north to our car.  The other option was to bushwack back towards swampy pass, but I had wanted to avoid that.
The slope was much steeper than I had anticipated, and I was having trouble moving around, over, and under many downed trees.  At one point, I slipped and slide down a steep bank, but was not injured.  About half way down, I could see a creek below.  My heart sank when I saw the extensive boulder field between me and the creek.  I clicked on the radio.  "This mountain is surrounded by boulder fields!" I yelled to inform my partner.  There was no answer.  Very carefully, I picked my way down the boulders and finally arrived at the creek, out it a large open meadow.  There was a trail along the north bank of the creek.  The creek was unnamed on the map, but I read that it would bisect the Highline Trail a few miles to the east.  There was an easy log crossing to another dense forest which I favored as a hiding spot for out meat and possible camp location.  I unpacked all of my equipment and hid it under a small bush.  With an empy pack, I used my GPS to navigate back up through the boulder field to Scott and the carcass.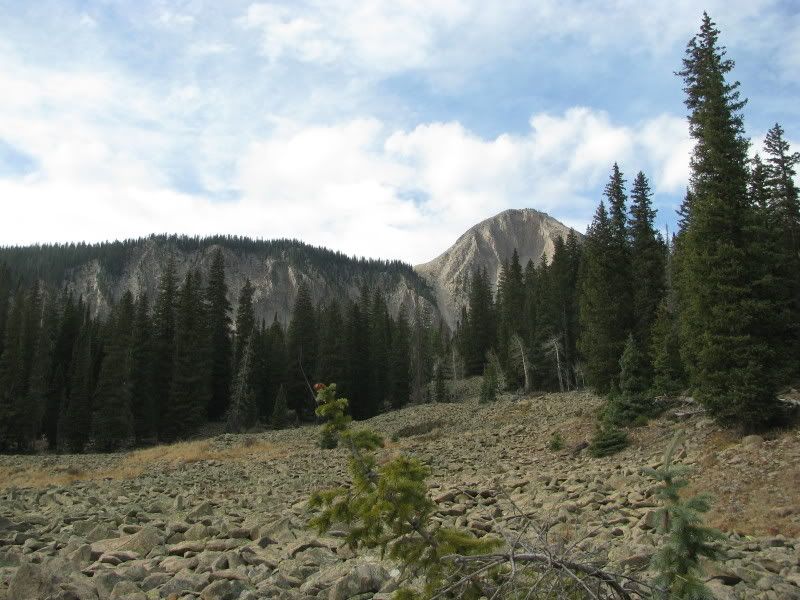 I had to hike through these boulderfields three times up and down.
When I had arrived, he had the carcass picked clean, with six game bags that seemed to be anywhere from 30 to 50 pounds each.  Lastly, he sawed away at the skull to acquire the antlers: a trophy from his first bull ever killed.  Before taking all the meat down to the creek, we first moved it all about a hundred yards away from the carcass.  From there, I loaded two bags into my backpack.
"Holy shit!  This is heavy!"  I whined.  My knees buckled with every step down the steep face of the mountain.  It was almost unbearable.  Quickly we picked out way down the boulderfield to my cache location, then hiked back up for the rest of the meat.
By the time we had everything down by the creek, dusk was approaching.  We agreed to make the hike out in the dark, as long as we could keep to a trail we couldn't get lost.  Taking a small risk, we decided to leave all our warm clothing and camp gear at the cache.  If we returned late the following day, we could stay another night.  I also left my gun, not only to lessen my load, but also to keep my options open of hunting again when we returned.  The weight of the bags meant we would each only take one.  I took a clean hind quarter and my partner took the bag of backstrap and loins.  We strung a line between two trees and hung the remaining four bags a few feet off the ground.  We assumed that most bears were nearing hibernation by now, so we only had to keep the meat away from any roaming pack of coyotes that may have picked up the scent.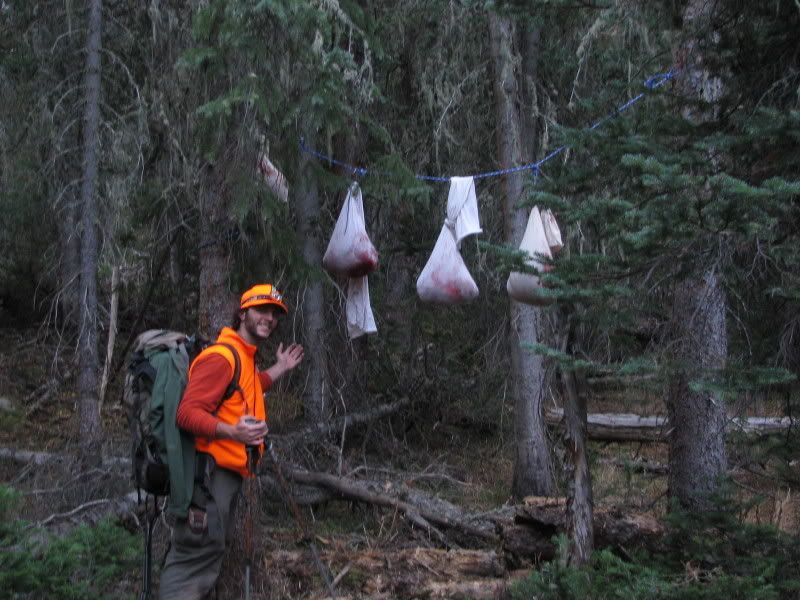 Our cache was somewhat poorly constructed, but we thought it would work.
Before departing we sat near the river for a smoke and to purify some water.  We reflected on our accomplishments.  So far the hunt had gone as planned. We did everything by the book, travelling deep enough to escape any other human pressure, caught our prey by surprise shortly after breakfast, and harvested enough game meat to last through the winter.  My partner's only regret was that he did not also shoot one of the cows he encountered, to fill my tag (we had either-sex tags).  However, not only did I personally view this method as unethical, I also admitted that harvesting this one elk was more work than either of us had anticipated.  We did not have the energy to harvest another.  I wondered if our friends had fared successful in their hunt.  If so, surely their four-wheeler would have helped immensly in transporting their meat.  Judging by the events of our hunt, and the scarcity of wildlife throughout this forest, we doubted our friends were successful.  But there was only one way to find out, so we set off for the 6 mile hike to elk camp.
We had about an hour of sunset when we set off.  The unnamed trail followed the creek towards the north.  We saw many horse tracks, as well as some small campsites.  The obvious human traffic made me feel a little better about following this trail in the dark.  Surely it would lead to a road at some point.
However, after a mile or two, we had not crossed the High Line Trail.  I had started to worry.  However, if this trail continued to follow this creek to the north, it would join the Pass Creek and pick up the Swampy Pass Trail, which head due east back to our truck.  If my estimation was true, we would save ourselves at least an hour or two by avoiding the High Line Trail (which deviated too far south for my liking).
The hiking was brutal.  We were both exhausted from the day's ordeal, and our packs seemed to each weigh 100 lbs. (they were probably more like 60 lbs.).  Darkness had settle in.  Guided only by headlamps, we continued on the trail.  I felt good each time I looked at the map.  This was an excellent trail!  I couldn't believe it was not on the map.  It maintained a constant elevation on the countour just above the creek, eventually crossing it.  From that point, we began to climb up, crossing three additional creeks that I remembered from our hike in.  The Swampy Pass Trail was above us, and we continued to climb to the northeast, eventually meeting the original trail.  It began to rain, and then snow.  With only a few miles to go, we pushed forward on the Swampy Pass Trail.  Finally, I saw the familiar National Forest registration kiosk, and practically ran my way back to the truck.
Exhausted, we returned to camp to find our friends sound asleep.  They awoke and we sat for a bit, comparing stories.  They were amazed at out success, for all the other parties in the general area were unsuccessful.  We had tried to persuade either of them to return with us for the remaining meat, but they declined after hearing how far away it was!  Eventually we retired to our warm tent.  My cot and wool blankets provided a comfortable nights sleep after the previous night in the wilderness.
Then next day, we awake to a couple of inches of snow on the ground.  Our friends had already departed on their vehicle for more hunting.  For breakfast, I cut up a few pieces of elk meat and cooked them over the campfire.  This was my first ever "elk steak n' eggs".  Then I took a refreshing hot water bucket bath and dressed in some casual clothes.  Although there was some snow on the ground, it was a sunny and warm day, but we had little time to relax.  We had to put together a plan to retrieve the remaining meat.  We both agreed that plan must include some sort of pack animal, although we differed on the species.  My partner wished for a horse, I thought a llama more suitable.  Regardless, we set off for civilization.
The town of Crested Butte is a short decent down Kebler Pass road.  What many people dub the "anti-Aspen", it is an old mining village, complete with tiny Victorian bungalows, all painted with modern pastel colors.  Many of the roads in town are dirt.  I have only been there once before (for some world class mountain biking), but I really like this place.  There is a vibrant community of outdoor enthusiasts, hippies, cowboys, and artists that provide hilarious character against the impending luxury developments a few miles away at the ski area that borrows the name of the town (the village at the base of the mountain is actually a different municipality, named "Mt. Crested Butte").
In town, we stopped at the Alpineer, a local climbing and cycle shop.  "I'm looking to rent a llama,"  I started off.  The staff laughed out loud and begged for our story.  We explained what had occured over the past few days, and they were blown away at our endeavors.
"There's a guy in town that may help you, actually there is a flyer posted out front," one woman said to me.
Sure enough, on the bulliten board in the front of the store was a flyer that read:  "Need help packing out your elk?  I'll work for meat!"  There was a phone number on the flyer.  I called it and was soon talking to a cheerful fellow.  He was amazed at my story.
"That sounds like a load of fun," he said.
"I'm not going to lie to you, its going to be pretty tough," I told him.
As his fee, he asked for "half of what I carry".  The thought of loaded this poor fellow up with 100 lbs. of meat and force marching him out of the woods had me smiling, but I told him that I would have to confer with my partner and get back to him.
Back in the store, I checked with the cute girl who was steaming some clothing on the retail rack. She said that a few young guys in the store had offered to pack it out on foot.
"So…so far its just dudes who want some meat," I verified with her.  "No llamas?"
She laughed, "Actually, there's a house up the street with a bunch of llamas out front.  Lets try to Google it."  I followed her over to the computer, where she tried to look up llama rentals.  She was relatively unsuccessful.
Finally, my partner returned into the shop.  "I've got a guy that will rent us a horse for $200."
"Yeah?  You know anything about taking care of a horse?"  I asked.
"Not much, whaddya do?  Feed her some oats, make sure she has water, and a place to shit,"  he responded.
"Yeah that's about it."
From Crested Butte, we drove through Gunnison, past the Blue Mesa Reservior, to a small desert ranch.  There was some sort of makeshift RV park on the property.  At first I thought it was a storage yard, but then realized that many of the trailers were occupied.  At the entrance to the ranch was a house that housed a gift shop and front office.  The gift shop was full of old west souveniers and Indian trinkets.  There we a lot of printed papers posted all over the place which seemed to promote the strengths of Sarah Palin and condemn Barack Obama.  I had thought to ask the shopkeeper if she had thought to alienate some customers with her propaganda, but held my tongue.
After we filled out our paperwork, an short old man in a cowboy hat burst into the room "Okay…which one of you is going to handle the horse?!"  he excitedly questioned.
"He is."  I pointed to my partner.
The man went through a list of simple instructions, how to feed and care for her.  He made it seem very easy.  Then we went outside and met "Baby".  She was an old mare, and definitely with a personality.  While showing us how to use the harness and saddle system, the horse gave him some attitude.  First he yelled at her a bit in a grouchy old voice.  Then they started kicking at each other in the legs.  This went back and forth for about 10 minutes.  Then she didn't want to get into the trailer, and he had to push her on the butt while we coercered her to the front with food.  It was hilarious.

The grouchy old man and his horse.
Finally arriving back at Elk Camp, the rest of our crew was quite surprised to see the truck pulling a large trailer.  To unload the horse, we opened the back door, but she didn't come out.
"Go to the side door and push her out."  Scott said to me.
I went around the side, and as soon as I opened the door, she jumped out, on top of me.  I tried to push her back, quickly realizing that it was useless, and just rolled away.
"What the hell?!"  we both said.  Then, inspecting the back doors, we discovered that we hadn't unclipped the rope in the back of the stall.  We were total rookies, but the horse showed us the program.
The rest of the evenings events were a tribal celebration among men, where freshly butchered backstrap steaks were grilled over a large "White Man's fire", and bottle after bottle of whiskey was uncorked, passed around many times, and emptied.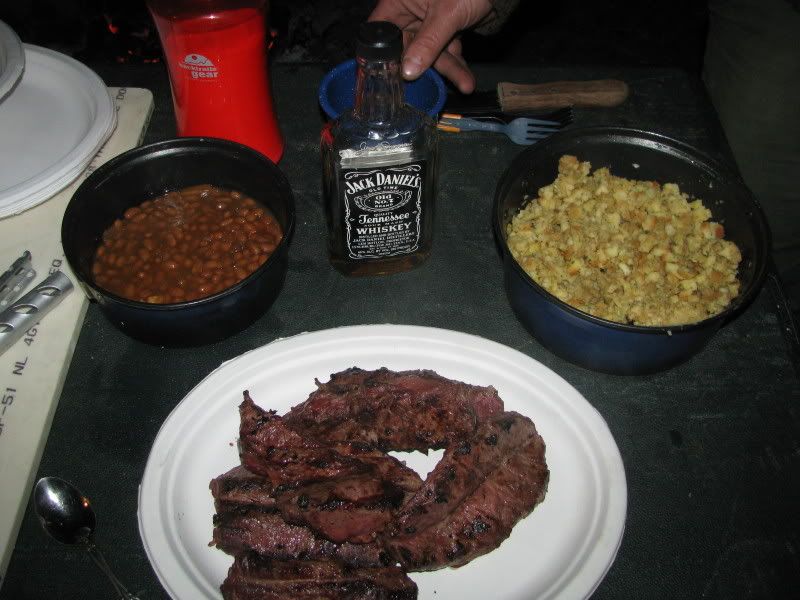 The feast.
Stories were told.  Some as old as tales of The Corps of Discovery and their journeys through the mountains in 1806, where "10 pounds of meat per man," were the daily duties of the hunting party.  Others were of new history made that weekend, by modern day Americans deep in the heart of the Elk Mountains  What connected us with the great explorers of the past was the feeling of going out and earning our food, then celebrating and savoring the feast that same night.
The feast that night marked the few times of relaxation during the hunt.  There was still work to be done, in going back for the rest of the meat.  However, that night, after the whiskey had run dry and the fire extinguished, snow had started falling.  As we led "Baby" along the trail we had endured two nights earlier, the entire landscape was changed by a half foot of white powder snow.  It continued to fall all day, sometimes so hard that I could barely make out the man and his horse ahead of me, save for the blaze orange coat he was wearing.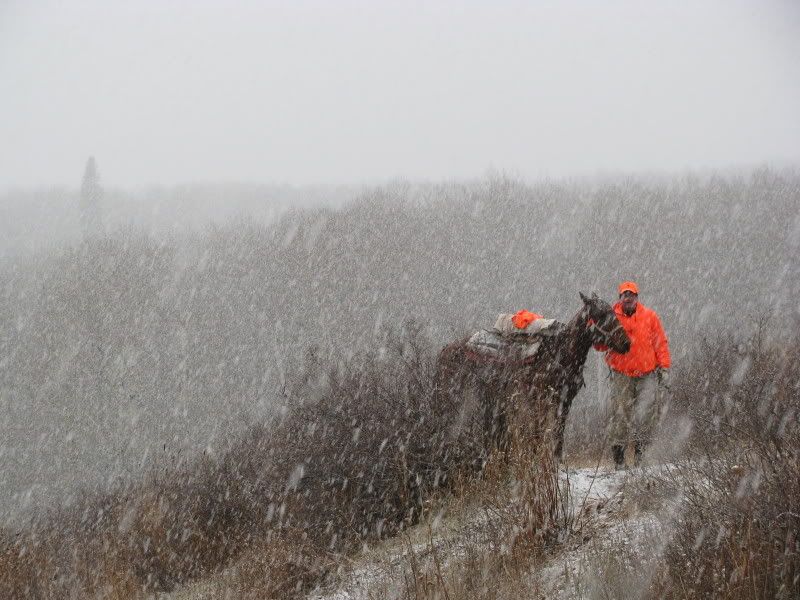 Heading back up for a 6 mile hike in a snowstorm.
Shortly, we encountered our Oklahoma boys that we had met a few days earlier.  Just like that morning, they were mounted on their horses and trotting along the trail.  When we told them our situation, they were shocked.
"You killed a bull?!"  one said.  "Wow, man.  You should have come talked to us, we'da helped you haul it out."
I laughed to myself, knowing well that my partner wouldn't have wanted to split the meat with these dudes.
"Nah…" he said, "We just got this horse, in and out in one trip," he said.
"Well, we've been riding up and down for days, haven't seen a thing." the other mounted hunter said.
Now I know I'm new to this whole hunting thing, but I knew damn well why they hadn't had any success.
"You need to get off the trail," I told them.  "Get in deep.  The darkest nastiest woods you can find."
"Hmm, I don't know what to do, other than just ride around. Have some fun." the Sooner smirked.
"Well, good luck," I waved as they rode off. 
Have some fun. I guess that's what its all about.  I hope they succeed.  I sure did.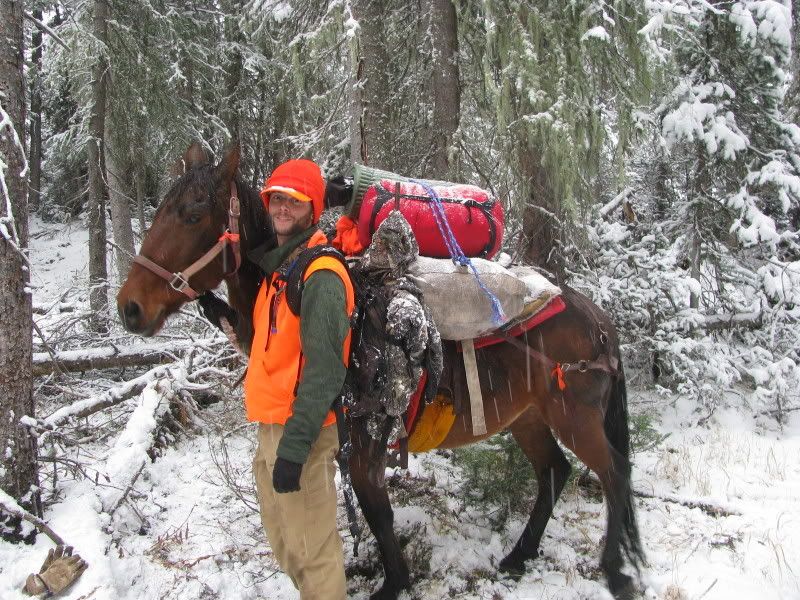 "Baby" and I after a job well done.